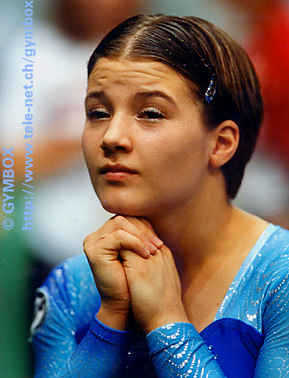 Emilie Fournier
Born: August 1st, 1983
Hometown: Montreal
Coached by: F. Bouffard / C. Pelletier
This gymnast recently got attention by winning as surprise the Pre Olympics in Sydney.
In 1999 she has beaten with her team the USA in a Dual meet and have won the Teamcompetition at Pan American Games and she have won as individual floor at China Cup in Taiwan.

In 1998 as Junior she took part at World Youth Games in Moscow and placed 10th at Romanian International. At Commomwealth Games she placed 5th in the AllAround.
The pictures below has been taken at official Podiumstraining and Teamqualification at World Championchips in China.