Sophia Karyoti
Born: October 31, 1982
Hometown: Athen
Coached by: Salagas Athanasios
Best Event: Vault
-In 1998 at Europeans in St. Petersburg Sophia reached a spot at vault apparatus final and placed 7th.
-At World Youth Games '98 she won the Silvermedal on vault and confirmed her potential on that event.Later in this year Sophia competed at Swiss-Cup in Zurich and at DTB-Cup in Stuttgart. She didn't qualify for Finals, the best result she reached in Zurich was on vault with a 5th place (9.125).On Floor she danced to music with sound of drums - and how she can dance! Her style and beauty was amazing and although she didnt got the Topscores she's one of our best memories of these competitions.
-In 1999 she wasn't very competive due different injuries, she withdraw at Cottbuss meet and has travelled to China with her Team but injured herself again on her arm.
Picture below has been taken at Swisscup 98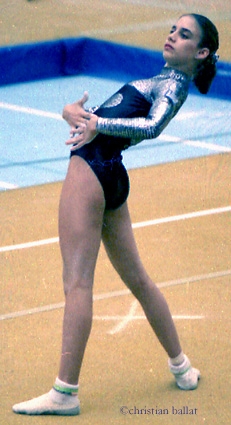 These Pictures below has been taken at DTB-Cup in Germany 1998