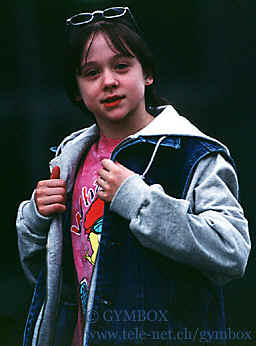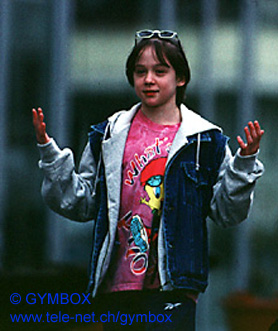 Ekaterina "Katja" Lobazniuk
click for: [ Lobazniuk Olympics ]
Born: June 10th, 1983
Hometown: Rubzowsk
Coached by: L. Lobasniuk, W. Dianow

In 1997 Katja competed succesfull in two Junior meets. She won the Top Gym in Charleroi and won vault and floor in Japan.
A broken arm prevented her to succes at Junior Europeans '98, later in this year she won the Acapulco Cup ahead to Victoria Karpenko.
1999 began very well with winning floor at Russian Cup again. At Cottbus meet first time I saw her and indeed she has a very well choreographed floor routine but unfortunately she had a fall after her double layout. On beam she placed 2nd.
At World Championchips she enthused the crowd with her floorset again, in my view her strongest apparatus on which she can present her charisma so well. But most important was her solid beamroutine in Teamfinal with a standing arabian.
In 2000 she ranked 3rd at Russian Nationals in the AllAround and etablished herself in that strong Russianteam.
In Sydney in the Olympics, she has won two individual medals, a silver on beam and a bronze on vault.
Later in 2001 she was recovering from a knee injurie.she missed the world championships in Ghent due to this injurie.
Pictures below were taken at Worlds 99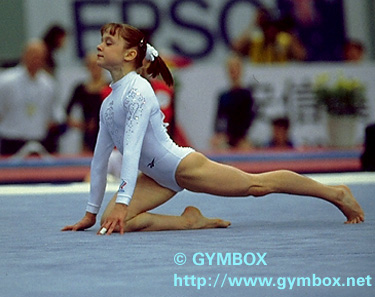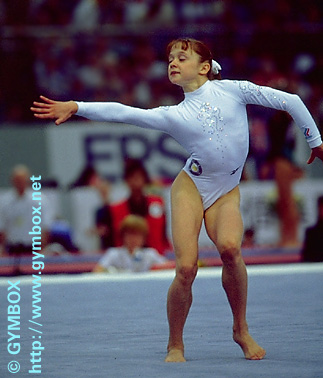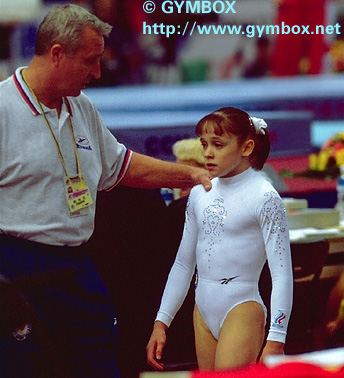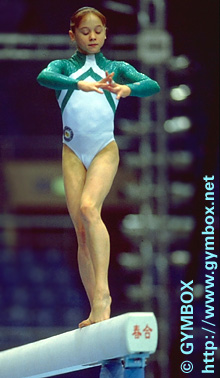 Finally we have found an intepreter at Cottbus meet, who had ask the Russian Girls some questions in our name. Here are some answers given by Katja (march 99)
What's your favourite event?
Vault.
Favourite gymnast when you started gymnastics?
Svetlana Boguinskaja.
What's your proudest achievement?
Russian Cup, first floor 1999.
Which country impressed you most?
Mexico.
Do you have a hobby outside of gymnastics?
To collect calendars and teddy bears.
In your life outside of gymnastics, what was the most significant event?
Not happend yet, it is in the lap of the gods.
If you are at National Training Center, with whom do you share a room?
K. Privalova, Nina Karzeva.(1999)

The Picture below has been taken at Cottbus meet '99.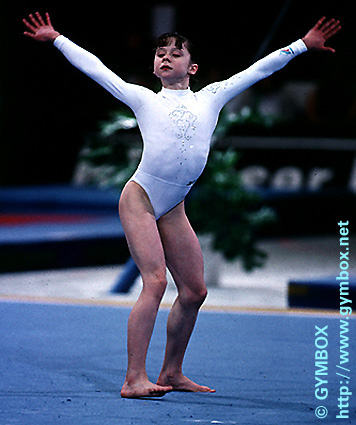 For more detailed information about Katja go to Olympic EuroGym