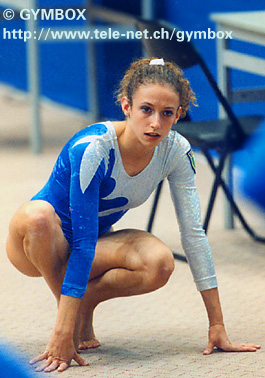 Elena Olivetti
Born: August 12th, 1983
Hometown: Milano
Coached by: Paolo Pedrotti
Her start on the international gymnasticsscene was impressing. She won the Bronzemedal on beam at the Junioreuropeans in St. Petersburg 1998. On bars she placed fourth. In the AllAround Competition she had some mistakes but showing her potential also.
In 1999 she was the Co-Floor national champ and a member of the Italianteam who qualified for the Olympics in Sydney. She competed three events and did well with supporting her team with a beamscore of 9.425.
At Europeans 2000 in Paris she qualified for beam apparatus final again but a fall prevented her to be highly sucessfull.
The Picture below is from this apparatus final
The picture below has been taken at Junior Europeans 98.