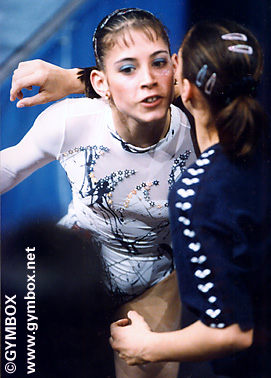 Alba Planas
Born: July 24th, 1985
Hometown: Mataro
Coached by:
Alba is the current Top Junior Gymnast of Spain. She gets attention performing a combo Tchachev to Jaeger release on bars.
Her career internationally began in 1997 with competing at Gymnix in Canada (5th AllAround) and the Charleroi Junior Tournament (10th AllAround).

In 1998 she has competed in several Junior Dual meets and at Copa Gymnastica in Mexico (14th AllAround).

In 1999 at European Youth Olympic Day in Denmark she ranked 16th in the AllAround.

In 2000 she was seen again in Junior dual meets and reached a spot on bars apparatus final at Junior Europeans in Paris (5th) and in the AllAround she ranked (9th).
The pictures below has been taken at Junior European Championchips during Team competition and AllAround.