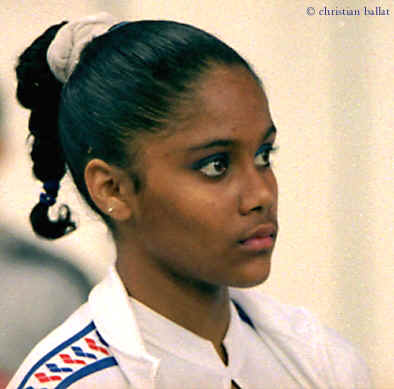 Elvire Teza
Born: March 29, 1981
Birthplace: La Réunion
(Island in the Indian Ocean
with plams and with sands!)
Hometown: Marseille
Coached by: Mao Shi
First time I saw this gymnast was at Junioreuropeans 1996 as she won the barstitle. She immediately became popular with winning the American Cup in 1997.
In 1998 she won the France-Ukraine-Spain-Meetand competed at Europeans. Later she went back to La Reunion due an event of death in her family but in 1999 she competed again for France at World Championchips in China. Picture below has been taken at these Championchips.
Elvire plans to become a psychologist. Her father is a school director and her mother is a nursery assistant. She speaks some english and has a cat named Minou. She enjoys movies, reading and listening to music. Elvire always wears the same hair-ribbon in competitions.
In the Code are the following skills named after her: Flic-flac in side position with full turn to back hip circle and a Yang Bo Jump in side position, both E-skills.