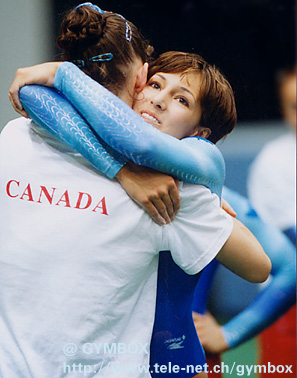 Yvonne Tousek
Born: February 23, 1980
Hometown: Cambridge, Ontario
Coached by: Elvira Saadi (former Soviet Olympian 1972, Vladimir Kondratenko
I remember well watching Yvonne first time at Atlanta Olympics during her Floor compulsory and i witnessed her elegance. At these Olympics she could earn a spot at the AllAround Final (as individual Gymnast, there was no Canadian Team in Atlanta) and places 26th. A year later at Worlds 97 she improve to place 20 in the AllAround.
At Worlds 1999 she made Apparatus Finals on Floor and impressed with her own style and created a skill on beam (sideward flip) who is named after her in the code.
In 2000 she was part of the Canadian Olympic Team in Sydney and competed in the AllAround (33th).
The Pictures below has been taken at Worlds 99 during the official Podiumstraining, Team Qualification, AllAround and Apparatus Final on Floor.