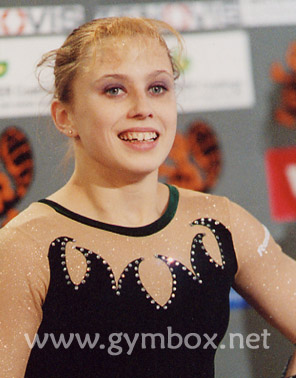 Elena Zamolodchikova
Born: September 19, 1982
Hometown: Moscow
Coached by: Nadezha Maslennikova

-In 1996 at the Junior Europeans she won the goldmedal with her team and a silvermedal on vault. Later she won the South African Cup.
-In 1997 she was a member of the circle ''not age eligible gymnasts". As junior she won the Salamunov memorial in this year.
-1998, her first year as senior began well with winning the two meets Bluewater and Wild Rose International. At Europeans made event finals on vault and placed 4th.The World Youth Games '98 in her Hometown were a big succes with winning the AllAround and Silvermedals on bars as on floor.
-In 1999 she became the World Champion on vault and added a good third ranking in the AllAround competition.
-The Olympic Games 2000 were the hightlight of her carriere with winning gold on vault and floor.
-In 2001 she has won the American Cup, at World Championships in Ghent she competed Qualification only due an injury.
-In 2002 in Debrecen she achieved another World title on vault.
-In 2003 at Worldchampionships in Anaheim she has won the Silvermedal on vault.
Picture below was taken at Cottbus 2001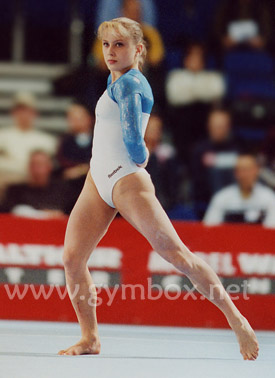 Picture below was taken at Olympics in Sydney, 2000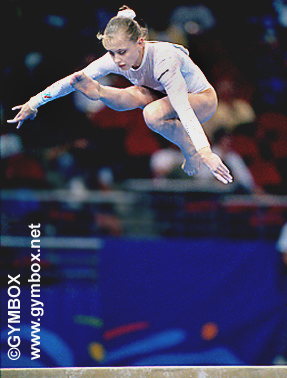 Picture below was taken at DTB-Cup 2000 in Stuttgart, Germany
Finally we have found a intepreter at Cottbus meet 1999, who had ask the Russian Girls some questions in our name. Here are some answers given by Elena:
What's your favourite event?
Each one, most floor.
Favourite gymnast when you started gymnastics?
I hadn't one.
What's your proudest achievement?
Grand Prix Zurich 1998, 1st on floor and vault.
Which country impressed you most?
France.
Do you have a hobby outside of gymnastics?
Inline Skating.
If you are at National Training Center, with whom do you share a room?
Katja Privalova (march 99)