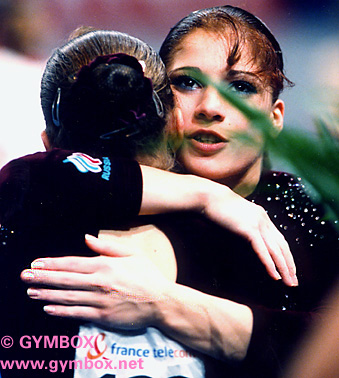 Elena, here with Elena Zamolodchikova, after learning about the Teamvictory at Europeans 2000.

Elena Produnova
Born: Born: February 15, 1980
Hometown: Rostov on Don
Coached by : Leonid Arkajev
In 1995 she had her international appearance as Junior Europeans Teammember and Worldteammember and a second Place on beam in the International Junior in Japan. She also made the Worlds team in Sabae, first time i could be stunned about her vaulting abilities.She went last in the line up on beam but unfortunately had a fall.
In 1996 she had some problems with injuries and couldn't reach a Spot on the Olympicteam.
1997 was her year with the two Bronzemedals in the AA and Floor event finals at Lausanne Worlds.
In 1998 she competed at the Goodwill Games (10 AA) and at Swiss Cup she won on the Beam.
In 99 she introduced the Roche vault (21/2 handspring front on vault) at European Masters in Patras, that is an incredible innovation in womens gymnastics and she has won the All around in Russian Nationals and the Russian Cup also. Worlds same year were a difficult affaire for her with earning four fourth rankings.
2000 began very well for her with winning American Cup and Copa Gymnastica also. At Europeans in Paris she have won a Gold with her Team a Silver on floor and a Bronze on bars.
This gymnast was tremendous competive in the last two years (competitions above for sure not complete) and she gained a tons of fans with her personality and gymnastics style. Despite her innovation on vault, floor is her most brillant apparatus. She is doing an arabian double front to punch front and layout front to double front!!! On that event she has such a superb synthesis between power, feminity, originallity and difficulty.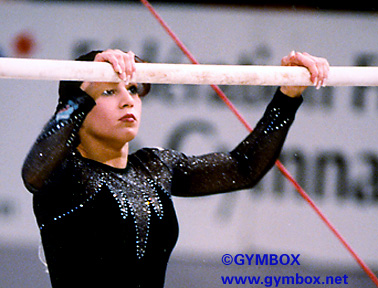 Elena preparing bars before her routine at Europeans 2000 apparatus final.
In spring 1999 we found an intepreter at Cottbus meet, who asked the Russian Girls some questions in our name. Here are some answers given by Elena:
What's your favourite event?
Beam and floor.
Favourite gymnast when you started gymnastics?
Svetlana Boguinskaya.
What's your proudest achievement?
Worlds 97, 3rd AA, 3rd floor.
Which country impressed you most?
Australia.
If you couldn't do gymnastics, which sport would you do?
Ice Skating.
Do you have a hobby outside of gymnastics?
Music, Disco, Films and Books.
In your life outside of gymnastics, what was the most significant event?
My Birthday.
If you are at National Training Center, with whom do you share a room?
Svetlana Khorkina (march 99).

This Picture has been taken at Grand Prix Zürich 1999 (Swiss Cup)

These Pictures has been taken at Worlds 99 in China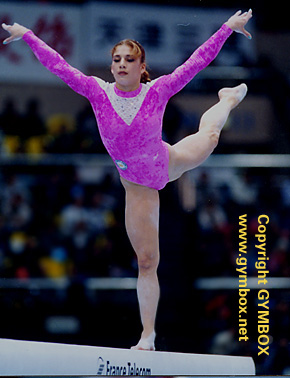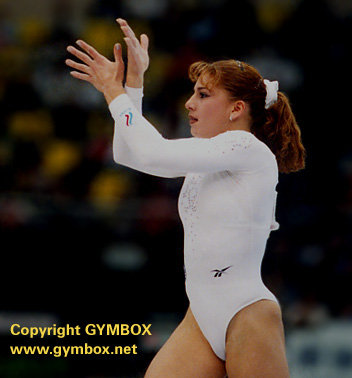 This picture below was taken at Cottbus Grand Prix 1999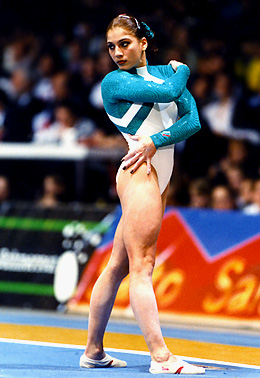 Elena with the Magic of Grace Calendar