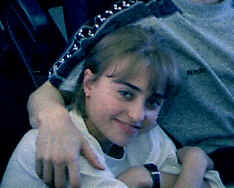 Jennifer Montavez
Born: September 22, 1982
Hometown: Madrid
Coached by: J. Carballo
Jennifer get attention with the excellent 8th place in the AllAround Competition at Europeans '98.Like all Spain girls she has good form and bodylines. Her dance is impressing also. Her floormusic is from ''The Toasters'': David goes crazy (1998).
At Cottbus Grand Prix Meet 99 her charming coach Jesus Carballo asked Jeniffer to the questions we gave him. Here are her answers:
What's your favourite event?
Bars.
Favourite gymnast when you started gymnastics?
Tatiana Gutsu.
What's your proudest achievement so far (march99)?
8th Place in the All Around at Europeans 98.
Which country impressed you most?
Russia.
If you couldn't do gymnastics, which sport would you do?
Ice Skating.
Do you have a hobby outside of gymnastics?
Music, Reading books.
In your life outside of gymnastics, what was the most significant event?
Happened in my family.
If you are at National Training Center, with whom do you share a room?
Sara and Paloma Moro, Silvia Fernandez, Diana Plaza and Beatrice Sanchez (march 99).
The Picture is from the Cottbus meet 99
The picture below is from the Europeans 98