Anastasia Kolesnikova
Born: March 6th, 1984
Hometown: St. Petersburg
Coached by: Ilia Saprikin
The Junior Europeans 1998 in her hometown St. Petersburg were her first major international competition.
It seems that the homeadvantage was a charge to this young gymnast. After a good barroutine (9,625) she had two falls on beam in the Team competition. On floor she did well with a score 9,512, showing that she has good potential.
In 1999 she competed in different meets to gain competive experience. She have won the Bluewater International and Beam at Charleroi Junior Tournament. She has competed also at International Junior Tournament in Japan and at European Youth Olympic Days.
In 2000 she got a new floorset to classical music showing very well her devellopement to a elegant mature gymnast. She earned a silvermedal on floor at Russian Nationals. She made Russians Olympic Team as competitior for the technical apparatus beam and bars.

Picture below was taken at Olympic Teamfinal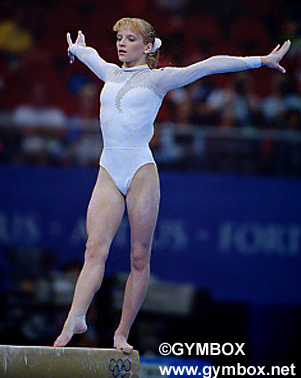 Picture below was taken at Europeans 98 St. Petersburg