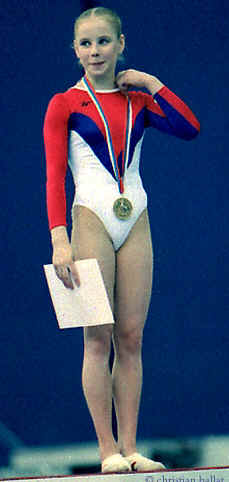 Anna Kovalyova
Born: January 18th, 1983
Coached by: Yelena Mashinskaya
since 1998 Leonid Arkajev
Hometown: Novogorod
-AA Around Junior European Champion 1998
-Junior European Champion on vault 1998
-Winner on floor at Cottbus meet 1999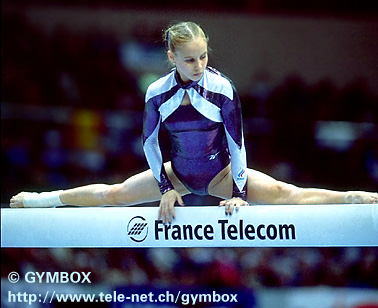 We found an intepreter at Cottbus meet 99, who had ask the Russian Girls some questions in our name. Here are some answers given by Anna:
What's your favourite event?
Vault.
Favourite gymnast when you started gymnastics?
Elena Schuschunova.
What's your proudest achievement?
Junior European Championchips 98, First in All arround.
Which country impressed you most?
France and USA.
If you coldn't do gymnastics, which sport would you do?
Ice Skating.
Do you have a hobby outside of gymnastics?
Swimming, English.
In your life outside of gymnastics, what was the most significant event?
The birth of my nephew.
If you are at National Training Center, with whom do you share a room?
Ljudmilla Ezhova (march 99).