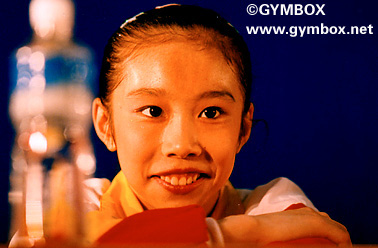 Picture has been taken at Press Conference in Tianjin
(after the Chinese Womens have won Bronze with the Team)


Ling Jie
Born: October 22th, 1982
Hometown: Hunan
Coached by: Liu Quinling

Ling Jie is the current World Champion on Beam but she is impressing me on bars most due her incredible tension in her legs and precision.
In 1998 she has competed at Asian Games (4th in the AllAround) and Goodwill Games in New York (8th AllAround and two 7th on beam and bars apparatus Final) and at China Cup in Tianjin (4th in the AllAround).
In 1999 she has competed with her Team at International Teamchampionchips and ranked 13th in the AllAround (mistakes on beam and bars). At World Championchips in her home she was more solid and became the World champin on beam and picked up a bronze medal on bars. End of the Year she has competed at Grand Prix meets Zürich and Stuttgart (3rd on bars).
This Picture below has been taken at DTB-Cup 1999 in Germany
This Picture below has been taken at Grand Prix Zürich 1999 (Swisscup)
These Pictures has been taken at World Championchips 1999 apparatus final bars and beam