Maja Hribar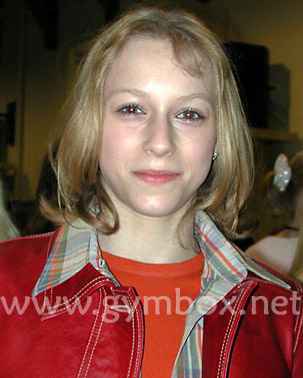 Nickname: Hribcek and E.B.

Hometown: Ljubljana

Coached by: Mitija SAMARDZIJA P.


Family Facts: (parents or siblings involved in gymnastics or other sport?)
None was ever involved in high level sport.

Which was the most interesting country you've seen?
There were two: I liked Tunisia, because it's very exotic, with lot of sand and heat and I like France because there are a lot of very interesting and
remarkable things to see.

Favorite event/apparatus?
Definitively the Uneven bars.

Favorite gymnast when you started gymnastics?
Svetlana Khorkina

Gymnasts you admire now?
Verona Van de Leur

Do you have an element or a combination in your gymnastics, which is any
special? (Difficult or original)
Well, a few years ago I worked as a mount on the beam the sideward salto
(take off from both legs, turn of 90 degrees - salto sideward, landing sideward). It was a very risky and difficult mount and when it was given a C value, we decided with my coach to change my mount with a secure one.

Which element in gymnastics do you like most to do?

I like doing the "Bee" on bars.

Which element do you hate, but you need it (because it's a basic skill or
has a high start value)?

I hate the "simple" turn 1/1 on beam! For me is the most difficult element
on beam :)

About which skill you are dreaming, you are thinking: wow, when I could do that?
It's not a single skill - I have in my mind a combination of skills on the bars, that I would really like to do and for now I am still planning to do,
but I would'n like to talk about it yet.

Would you give back compulsory to elite gymnasts if you could decide that? Why?
No, I wouldn't because the competitions would be to long and there would be
left less time to train the skills we like. I have never done the
compulsory, but I was told that they were good for the basics.

In Ice Skating are A and B scores. Do you think this would works in
gymnastics also? Why?
I don't know.

Which are your favorite lessons in school?
English, German and physical education.

Are you in contact with elite-gymnasts, who are not competing for your
country?
No, because I didn't have the occasion to meet better anyone of them.

Do you have a hobby outside of gymnastics?
I like to read, listen music and go to the movies.

If you couldn't do gymnastics, which sport would you do?
Plunge, but there is no possibility in Slovenija to do this sport.
These picturs below were taken at Europeans 2002 in Patras#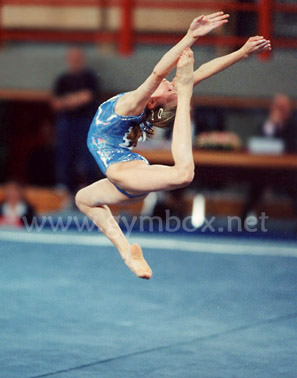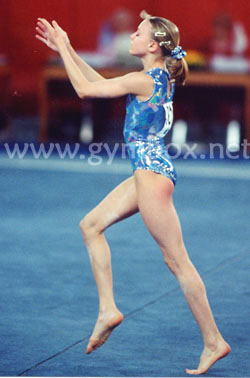 This picture below was taken at Junior Europeans in Paris 2000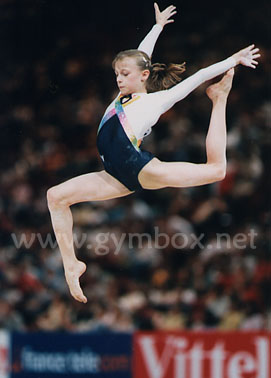 This picture below was taken at European Youth Olympic Days in Murcia 2001