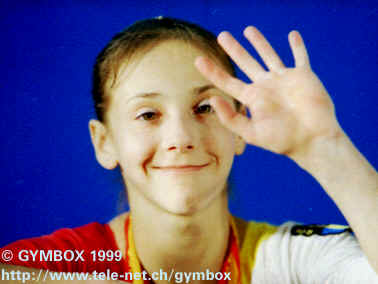 Andreea Madalina Raducan
Born: September 30th, 1983
Hometown: Birlad
major achievements:
World Champion on floor 1999
World Champion on beam 2001
World Champion on floor 2001
the competive AA Olympic Champion 2000
(some days later she was stripped of her AllAround Gold due to this Pseudo Ephedrin she got from the teamdoctor. Despite this fact, she is the Olympic Champ for her many fans around the world)
Andreea was one of Romanias big star of gymnastics. She has represented difficulty, good bodylines, dance ability, charisma and she was mediafriendly.
She retired end of 2002.
Our Galleries of Andreea Raducan
[ Raducan China ]