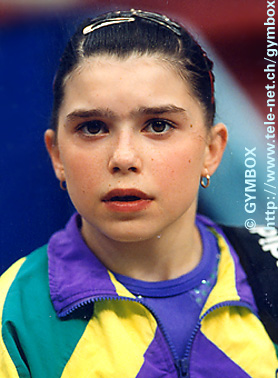 Olga Roschupkina
Born: March 26th, 1984
Coached by: Victor Lutyanenko
Hometown: Zaporoshnye
Best event: Bars
This girl is impressing me because her moves are well executed, her bodylines very good and she is elegant even as very small gymnast.
Her first international competition was the Top Gym Tournament in Belgium. She placed 4th in the AllAround. At Juniors Europeans at St. Petersburg 1998 she won the AllAround Silvermedal (tie) the Goldmedal on bars and with her Team also. If this girl is able to learn two vaults more difficult, she'll be an AllAround medalcandidate also. By the way at award ceremony for the AllAround she went to the place 3 on the Podium instead of the Place 2. In a few years I think she'll have good experience to stand on a Podium.
At World Youth Games 98 she won on her favourite event bars the Goldmedal and Bronzemedals on beam as on floor. End of the year she placed 7th at Copa Gymnastica in Mexico.
In 1999 she competed very well in the European Youth Olympic Days with victories in the AllAround, beam and floor. At her first World Championchips same year she have won the broncemedal on the beam.
The Pictures below has been taken at this meet during official Podiumstraining, AllAround and apparatus Final.