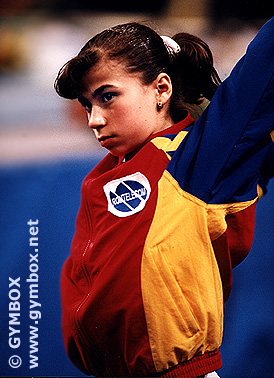 Silvia Stroescu
Born: May 8th, 1985
Hometown: Bukurest
Best achievements:
-Olympic champion with her team in Athens 2004
-Gold at Swiss Cup 2001
-Gold with her Team at World Championchips in Ghent 2001
-Gold on floor at Junior Europeans 2000
-Gold at Top Gym Tournament in Charleroi in 1998
Silvia is one of the gymnasts who showed at Junior Europeans that the romanians are going to be strong in the future, as well. She won several medals. Among them she won gold on the floor. She did gymnastics with French songs in the background, such as Sur le Pont, which let the French people sit up.