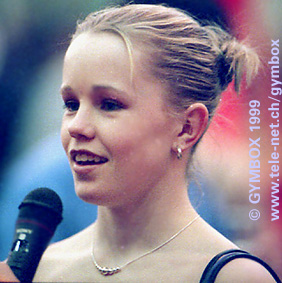 Zeena Mc Laughlin
The Picture above has been taken at Farewell Party at Worldchampionchips in China 1999
Born: May 14, 1981
Hometown: Narre Warren Melbourne, Victoria
Coached by: Fiona Bird
height (1999): 160 cm
weight (1999): 46 kg
Family Facts:
two younger brothers. Sean is a student at Dandenong TAFE and plays cricket and tennis. Brett also plays cricket and tennis. Dad is an accountant, mum works around the house and plays tennis.
Favourites:
Male Gymnasts: Alexej Nemov
Female Gymnast: Simona Amanar / Lavinia Milosovici
Sports: Horse Riding - although i dont like watching it
Color: Blue
Movie: Titanic, Scream
Band: Matchbox
Food: Spaghetti Bolognese, Pizza and Ice Cream
Season of the Year: Summer
Apparatus: bars
Ambitions beyond gymnastics: Go to USA and get a scholarship for Uni
Hobbies: Loves shopping and picking upbargains at shops,
markets and garage sales. Likes to draw and paint.
In 1994 Zeena was the Australian Junior National Champion.
Zeena represented Australia at Lausanne Worlds 1997 and placed 52nd in the team competition. She placed 2nd in the All Around at Wild Rose International in Canada.
1998 was a very busy year for the Australian National Champ. In Summer she won the All Around at Commenwealth Games, the Silvermedal at Pacific Alliance Championchips and placed 7th at Goodwill Games. A second place at Australian Cup and a third at Gander Memorial and a spot at bars event final on Swiss Cup confirmed her ability to compete on the highest level.
Her streghts are the technical appartus bars and beam (in 97 she performed a very original one arm handstand) and her floor routine is lyrical, just beautyfull to watch.
At World Championchips 1999 she was the Alternate for the Australian Team, the pictures below are from the official Podiumstraining.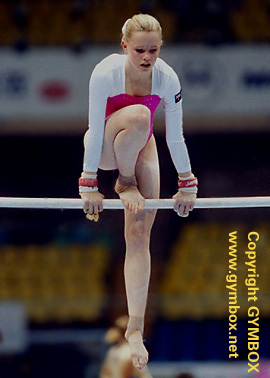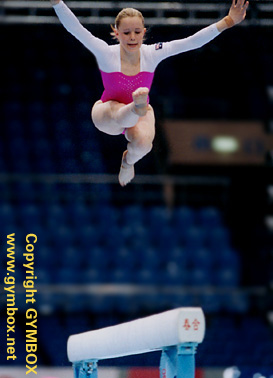 The pictures below has been taken at Arturo Gander Memorial 98