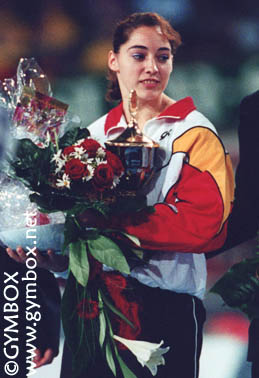 Für die Angaben in Deutsch bitte nach unten scrollen.

Birgit Schweigert

Nick-Name: Biggi


Place of residence: Bergisch Gladbach, during the terms
she lives in Hombury St. Mary, Dorking Surrey


Birthplace: Köln


Birthday: 21th of March 1982


Club: Turn Team Toyota Köln


Coach: until 1998 Gisela Heller and Ruslan Lavrow


later Shanna Poliakowa und
Peter Brüggemann in Köln
bzw. Vladimir Aksenow in Leatherhead

Choreographer: Valentina Mondsolewskaja


Floormusic: 2000 I like it like that


2001 cherry pink


Favourite apparatus: Beam

Special exercises: Birgit is very well-balanced, that is her strength. Specialities are her second Akrobahn on the floor (Rondat / 1 1/2 Schraube / 1/1 Schraube vorwärts). Birgit was one of the first gymnasts in Germany who tried turning jumps on the beam(1994). At the age of 12 she showed a Grätschristsprung with ¾ turn.

Favourite gymnast: Lavinia Milosovici and Henrietta Onodi

Family: One brother, 21 years old, he studies at the European Business School in London, he is very good at skiing and water-skiing and dance, he doesn't take part in competitions. Her father is chartered accountant, her mother is bank manager. Both parents invested a lot of time in sports when they were younger, but they weren't as professional as Biggi and they didn't do gymnastics.

Other things: Biggi is very good at skiing and water-skiing. She got the bronze dance-sports-badge. Last year the readers of the gymnast-magazine Leon (formerly known as OTA) voted her as gymnast of the year. The readers of the "Turnbörse" voted her as the German gymnast-personage of the year 2000.

These pictures below were taken at World Championships in Anaheim (Podium,did podium only in Anaheim due to an injury before the Team Qualification),0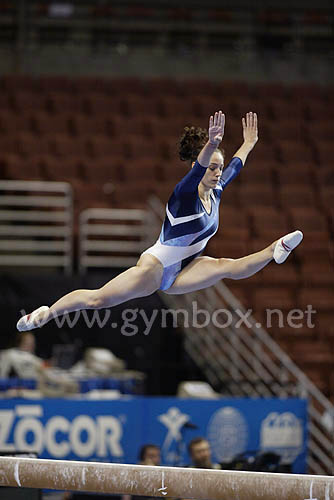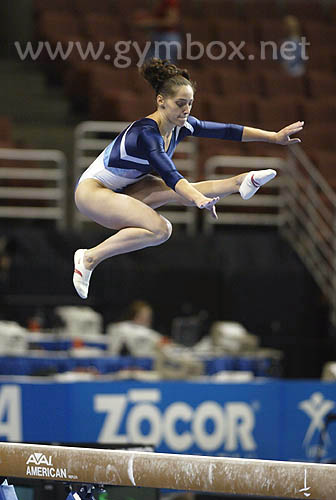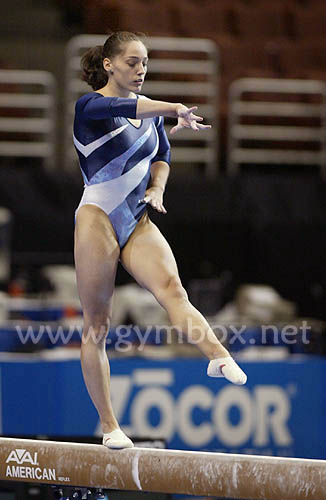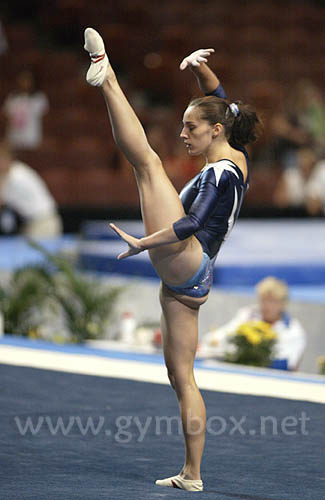 Picture below was taken at World Champioships 2001 in Ghent (All Around Competition)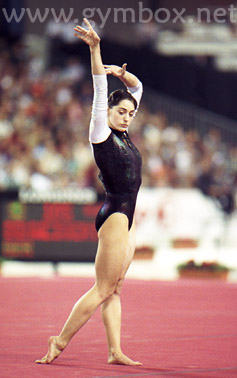 Picture was taken at Worlds 1999, Tianjin, China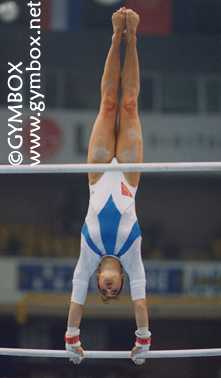 For informations in english scroll to the top please.
Name: Birgit Schweigert
Kurzname: Biggi
Wohnort: Bergisch Gladbach bzw. während der
Trimester Holmbury St. Mary, Dorking Surrey
Geburtsort: Köln
Geburtstag: 21. März 1982
Verein: Turn Team Toyota Köln
Trainer: Bis 1998 Gisela Heller und Ruslan Lavrow
Jetzt Shanna Poliakowa und
Peter Brüggemann in Köln
bzw. Vladimir Aksenow in Leatherhead
Choreographin: Valentina Mondsolewskaja
Floormusic: 2000 I like it like that
2001 cherry pink
Liebstes Gerät: Balken

Besondere Übungsteile oder Verbindungen:
Birgits Stärke ist eigentlich ihre Ausgeglichenheit. Besonderheiten sind
vielleicht folgende: selten geturnt wird ihre zweite Akrobahn am Boden (Rondat / 1 ½ Schraube/ 1/1 Schraube vorwärts. Birgit war 1994 eine der ersten
Turnerinnen, die mit Drehsprüngen am Balken experimentierte. Sie hat bereits 1994 als Zwölfjährige einen Grätschristsprung mit ¾ Drehung gezeigt.
Lieblingsturnerin : zu Anfang Lavinia Milosovici und Henrietta Onodi
Familiäre Situation: 1 Bruder (21 Jahre), studiert an der European
Business School in London, er fährt sehr gut Ski
und Wasserski und tanzt, betreibt allerdings keinen
Wettkampfsport, Vater ist Wirtschaftsprüfer, Mutter
Bankdirektorin. Beide Eltern haben in der Jugend viel
Sport getrieben, allerdings nicht so professionell wie
Biggi und auch nicht geturnt
Sonstiges: Biggi ist eine sehr gute Skifahrerin und fährt gut
Wasserski, sie hat das bronzene Tanzsportabzeichen.

Im Jahr 2000 wurde sie von den Lesern des
Turnmagazins Leon (vormals OTA) zur Turnerin des
Jahres gewählt, von den Lesern der Turnbörse zur
deutschen Turnpersönlichkeit des Jahres 2000