For the new misc. Worlds Picture Gallery, scroll down please
On these Gymnasts below are Pictures of the China Worlds available now:
(

= last update)
Australia:

Jacqui Dunn
Belarus:
China:
Dong Fangxiao

Canada:
Some misc.pictures of the Team at the Canadian mainpage
Czech republik:
Some misc. pictures of the Team at the Czech mainpage
France:
Some misc. pictures of the Team at the French mainpage

Greece:
Hungary:
Italy:
Some misc.pictures of the Team at the Italian mainpage
Romania:
Some misc.pictures of the Team at the Romanian mainpage
Russia:
Spain:
Some misc.pictures of the Team at the Spanish mainpage
Ukraine:
USA:
Picture of Jennie Thompson at USA Mainpage
Vanessa Atler


Lisa Skinner, Australia.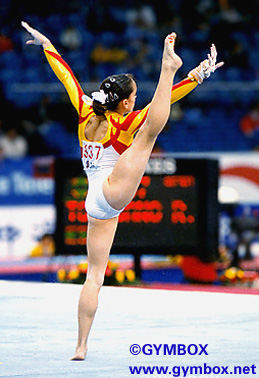 Rebecca Toledano, Spain.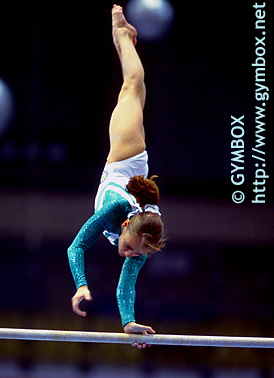 Ljudmilla Ezhova, Russia.

Elise Ray, USA.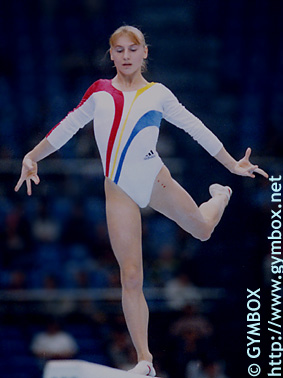 Simona Amanar, Romania.

Kate Richardson, Canada.



Olga Roshypkina, Victoria Karpenko, Tatjana Yarosh and Olga Teslenko.

Below are the webmaster personal observations, opinion and comments, we have written during the World championchips
 october 14th by Webmasters 

The All Around - what a thriller                                                       
Khorkina was out shortly after the beginning with a to low start value on the beam a
wobble and a lowscore. Produnova didn't hit her Roche as good as should (low). 
Zamolodchikova was on a good way and Karpenko also. The Romanians hits their 
beam routines comfortable. On floor, Amanar got a 9.821 and the more precise 
Raducan a 9.837.

Elise Ray was on a good way also beeing 5th once. But beam took her at place 
8th at the end. Vanessa Atler was under her potential. Definitifely she is not in her 
best shape at moment (31th place).

Last round, we knew Olaru has an advantage because she's the better vaulter 
than Karpenko. And indeed, she grabbed first place. Then Amanar felt on bars and 
out of the medals. 

We knew the Zamo/Produnova-Duo could hit it with their floorsets. They both did 
glorious with their floorroutine. Each acropasses without errors and Zamo reached 
the bronzemedal well deserved. For Produnova 4th Place is a bit hard, with her 
feminity and extraordinary difficulty she gives so much to the world of gymnastics.

But all in all, i feel the 3 Podiumplaces are deserved. A Gold for a Romanian, who 
represents a new generation, tall and with feminity in her performances. A Silver for 
a gymnast in the past plagued by injuries and a Bronze for a original gymnast with 
bright options for the future.

And aware, both Zamolodchikova and Olaru was not age eligible at Lausanne Worlds 
(but both in good shape in 97 also).                                                      
Interesting also was watching Svetlana Korkina helping Simona Amanar helping
to prepare the bars!

Jasmin and Christian                                                     
update october 12th                                                      
Here are some impressions of Anne Beyeler (she is an international brevet
Judge, but is as privat person here in Tianjin) after the qualification competition.                                        
She observed the competition more from the technical point of view. Not such
emotional way like me, the webmaster.                                                      
Australia: High releases on bars, nice choreography on beam and floor. Good 
technique in the acrobatic elements. Low scores in comparaison to the Ukrainians
and Spainiards.                                                      
France: Good bars, on beam very insecure, Ludivine Furnon superb on floor.                                          
Ukraine: Low releases, technique wasn't as good as in the past on bars.                                           
Netherlands: Big improvement, good technique in general, this means this team
has a future.                                          
Romania: Best team of technical point of view, on beam very secure, on floor very 
precise gymnastics elements.                                         
China: Hard judging on beam, very good bars with hight releases.                                              
Russia: A lot of small errors - execpt the big one of Anna Kovalzova on floor.                                         
I haven't seen a lot of the USA's and the Canadians because Switzerland was
competing at the same time. There were also some interesting facts. I saw an Egyptian
gymnast doing a handspring layout front on vault very very precise. No banana perfect
layout shape. We saw an Indian team with start value 6 and scores of 4. It is a big
performance this country is able to send a whole team performance. Whatching India,
you can see how good Worlds's best gymnastics teams are.                           
Some infos, opinions, impressions of the qualifications 
by the webmasters                          / october 10th                                                      
* Elena Produnova dindn't show the "Roche", maybe at event finals.                                                      
* The Australians were very consistent. Their alternate Jacqui Dunn did very well
with scores between 9.237 and 9.575.                                                      
* The Spaniards had a confusion on vault. Sara Moro had a fall and after that she 
had to do her second vault the double yourtschenko twice (the green light didnt work in 
the right way). After this they have two mistakes on bars (and a very hard judging). It's so 
hard this 7th place, this is avery good team, and a young team, watch them out for the future.                                        
* The Ukrainians in the early morning round also, were not bad but 2 mistakes of 
Viktoria Karpenko on floor, her best event, was hard. Later she didn't show the
arabian and got a 9.175, due low startvalue. Olga Roschypkina is such brillant on the
technical appartus with her technique and bodylines. With a Karpenko in shape, they
will battle for a teammedal.                                                      
* Italy has such a good mood between the girls, it's nice to watch them how they cheers
to their teammates. They had some problems on the beam, Bremini a fall on her 
Silivasmount, Crisci 2 falls. Alice Capitani injured during morning training, so they
competed with their alternate Francesca Morotti. 9th Place and (execpt beam) very 
good performances.                                                      
* Some gymnasts got deductions for missing national emblem (Albania/Estonia) 
and for earings (a Slovakian and a Korean)....                                                      
* The Chineses were strong on bars but on the beam they are weaker due low start
values. On vault they had some falls. I think the Kui, Bi, Meng generation was stronger
than these girls we saw this morning. But it is for real they'll get a medal - with luck and
the homecrowd....                                                      
* I was very disappointed when I realised that Octavian Belu didn't set Andreea 
Isarescu on floor. She's the current Junior European Champ and is using classical
music - one of the best choreographed floorset of a Romanian in the ninetees. Maybe 
her Start value is not a 10. And Corina Ungureanu, the current floor European Champ, 
went first in the line up, what is equal with no chance to qualify for an event final spot 
on floor. Maria Olaru, first after qualification, was impressing and she has a real 
chance to become World Champion.                                                      

First update from Worlds 99 Tianjin   / october 7th                                                      
My impressions of womens podium training.                                                      
I was busy with shooting pictures but inspite of this I will write down my incomplete 
impressions. Don't kill me if something is wrong.                                                      
The most memorable moment was watching for the first time Allana Slater. What a
Grace. As whole the Australians: What a team.                                                      
In the same group the Ukrainians with blue/gold leotards. Viktoria Karpenko hadn't 
a good day with falls on floor and beam. Tatjana Yarosh (if my memory is intact)
didn't show her round off to side somi but impressed with a very well choreographed 
floorroutine. Olga Roschypkina (with new hairdo) showed a very nice piked side somi 
and her whole gymnastic is precise as usual.                                                      
The French Team isn't in the best shape exept Ludivine Furnon on floor has a real
final chance if she hit her routine. My prediction is that French will be overscored
by the Spaniard, Canadians, Italians and Australians.                                                      
In the same group the Spaniards. Their strenght is the fact that the difference between
their best and weakest gymnast is small. Each girl has good execution.                                                      
Next session with the Czech Republic, Hungary and Greece. The Czech is a nice team
not high start values but nice to watch. Greece with Tsavdaridou will not reach the 12th
place I think. Sophia Karyoti is injured on her arm and Vasiliki Tsavdaridou isn't as good
as in 1996. Hungary is competing without Adrienn Varga, who is injured.                                                      
China indeed isn't that strong. But a person told to me: you never know hat difficulty
they will add in the competition maybe.                                                      
Canada with colorfull leotards (dark blue to green) are strong on floor. In general
(I saw them the first time since 97) they are stronger than I expected.                                                      
USA (with injured Jennie Thompson out of competition) seems to be better than the 
97 team. Morgan White the second alternate, is a big support to this team. Surprised 
in a posive way of Elise Ray's and Vanessa Atlers floor choreograhy (I watch them 
for the first time).                                                      
The Romanians with new leotards have (in my view) the most pleasant team since 
the Dobre/Silivas generation. Loredana Boboc very cool on the beam (trained a
layout and a full in). Ungureanu and Isarescu with artistry, the tall and feminin Maria
Olaru and Raducan with her superb bodylines.                                                      
The Russians with injured Anna Kovalyova. She trained vault, beam and floor (not
uneven bars as announced). Her injury hurt her and the Russian team is even not
determinated. Zamo, Khorkina, Lobayniuk and Produnova competed all four events,
Kutznetsova beam and bars (not the split legs grants but split leg dismount). Ezhova, 
beam and bars also Khorkina trained the double twisting yourtschenko and 
Produnova her innovation the Roche vault. Lobazniuk begins now her floor routine
with a double layout.                                                      
Italy in the last session with the returned Martina Bremini (now with blond hairs).                                        
It's such impressing how many countries are now in the same niveau and how close it
will be.                                                      
All in all I think the top three are given by Romania, China and the Russians, 4th I 
think Ukrain and then from place 5 - 10 all is possible. USA, Spain, Australia, Canada
and Italy are contenders of this places.                                                      
Let's surprise - Jasmin